This post is sponsored by Lowe's. Thank you for supporting the brands that help to make The Two Bite Club possible!
Breathe new life into your kitchen with these five transformative projects that won't break the bank!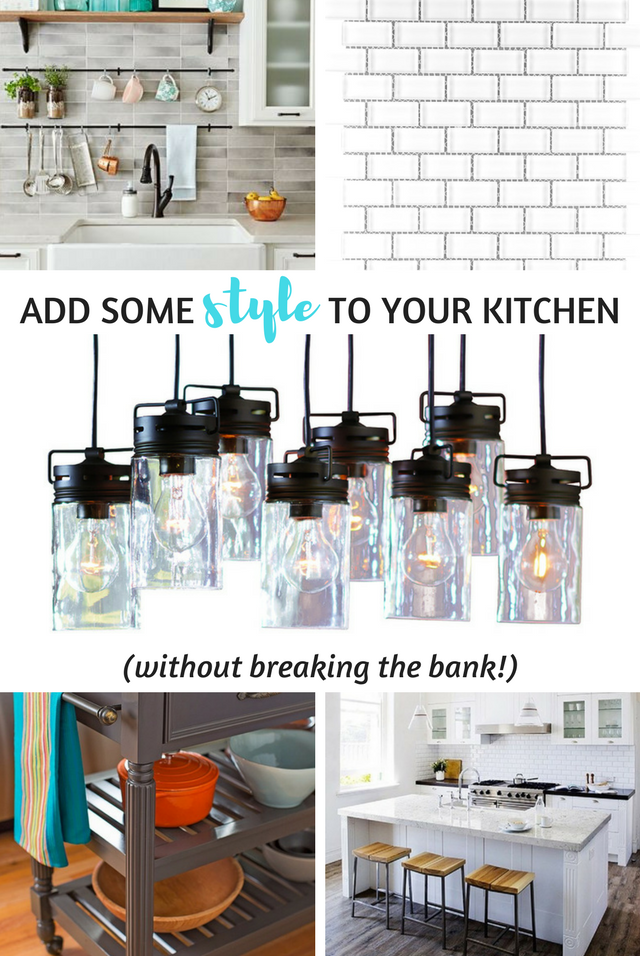 When I think of my dream kitchen, I think bright beautiful white. Like, white on white on white. There's something about a kitchen with white cabinets, white countertops, and white appliances that just feels beautiful and airy to me! That wasn't always my opinion, though. Nope, I used to prefer a more rustic, moody look complete with dark cabinets, rich wood floors, and an earthy paint color on the walls.
I did a lot of dreaming about what my dream kitchen would look like for many years. Finally, just over a year and a half ago, my husband and I bought our forever home and I couldn't wait to stop dreaming and start doing! Exciting, right?
Once I saw the kitchen in our new home, I knew right away it wasn't going to lend itself to the darker color theme I had always imagined. While there was no refrigerator or dishwasher when we moved in, there were lovely white cabinets that were in excellent shape. I was inspired to build my dream kitchen around them by adding personal, affordable touches with help from
Lowe's
, my go-to home improvement store!
Adding new appliances and countertops can be pricey and isn't always an option if you're trying to stay withing a budget like I am. The good news is, with the help of the design gurus at Lowe's
(also known as Lowe's Project Specialists)
, you can design your dream kitchen and plan your projects around
your
budget.
And with the big
Kitchen and Bath event
happening now until March 23rd at Lowe's, you can save up to 40% on stylish improvements that will make
all
the difference! That means it's time to stop dreaming and start getting inspired to make your dream kitchen a reality!
Check out the Top 5 simple and affordable ways that you can transform your kitchen into
the kitchen of your dreams!
1. Add a tile backsplash.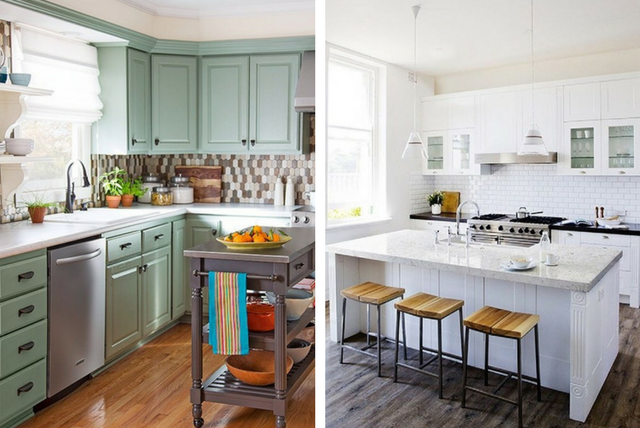 Whether you like bold colorful patterns or simple classic subway tiles, updating the look of your backsplash will get you tons of bang for your buck. The backsplash is often the first thing your guests will notice when they walk into your kitchen, so it is a great place to start your kitchen renovations. Don't be afraid to pick a style that really says
you
! I love a classic white tile.
2. Give your cabinets a facelift.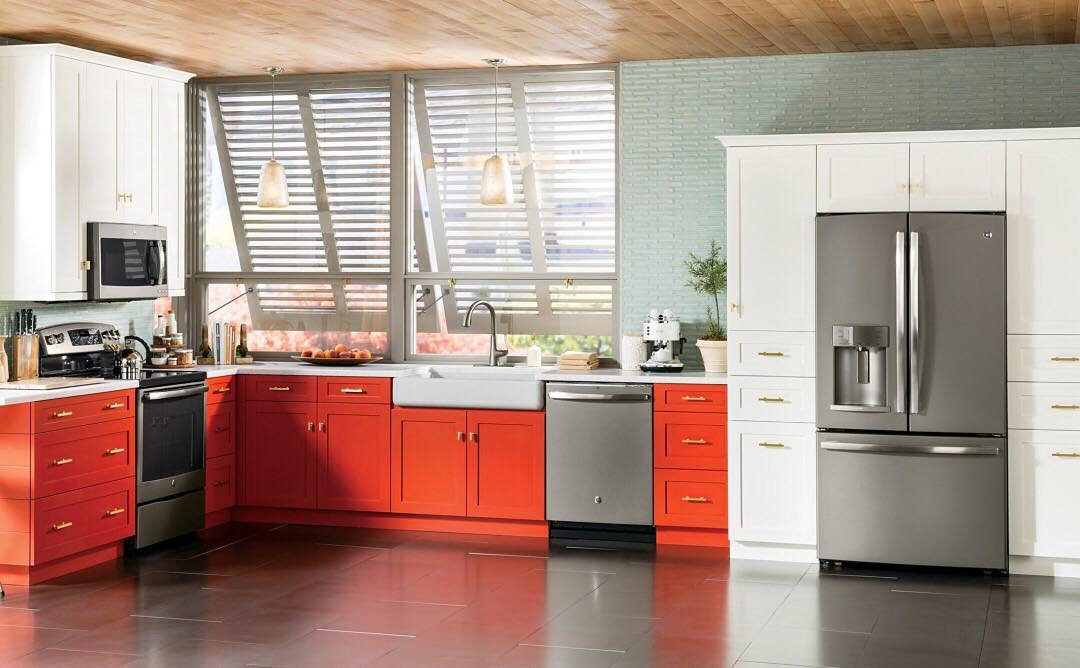 Are your cabinets looking a little dull and dated, but you're not quite ready to install all new cabinetry? All hope is not lost! You can give your cabinets a new, fresh look with a simple coat of paint and some stylish hardware. Bada-bing, bada-boom! Consider freshening them up with a two-color look paired with sleek cabinet pulls for a bold and modern style that will make you want to keep those old cabinets around a little longer.
3. Lighting is key.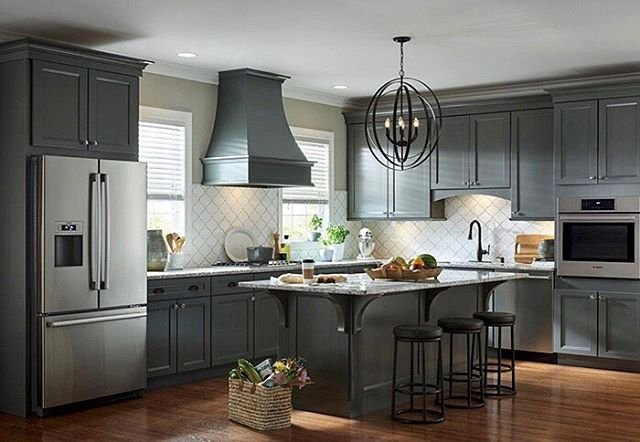 As a theater major in college, one thing that was drilled into my head over and over and over is that lighting is
key
. I've learned that not only is this true on the stage but also in day to day life...and especially in your kitchen! Updating pendant lighting, adding recessed pocket lighting, and adding under counter accent lights are all surefire ways to bring a dull kitchen to life.
4. Swap out your sink.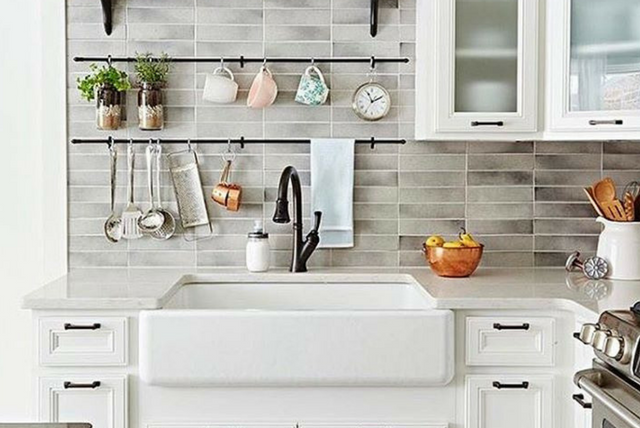 Replacing an old, worn out sink and faucet is an imperative step in making your dream kitchen a reality. The apron front farmhouse style is all the rage these days and is sure to be the showpiece of your reno on a budget! Not into the farmhouse look? Browse the sink selection over at
Lowe's
and you are sure to find a style that speaks to
you
. You won't be disappointed with this project!
5. Update your island.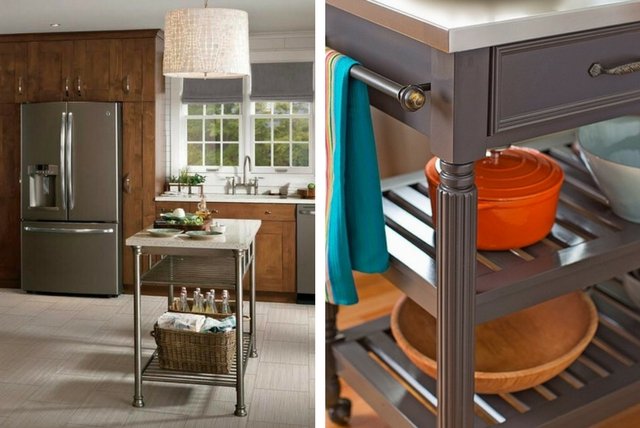 Maybe you have a large, clunky, and outdated kitchen island. Or perhaps you have a little bit of extra room and have always wanted an island, but you thought you didn't have enough space. Either way, you should consider bringing a stylish, open storage island into the picture! A stationary piece is good for a larger kitchen, but a smaller room may be better suited for an island on wheels that can be tucked out of the way when need be. The open shelves are perfect for showcasing some of your favorite kitchen items and for adding a pop of color to the room!
Don't forget, from right now until March 23rd there's a huge Kitchen and Bath event happening at Lowe's with up to 40% off select kitchen and bath items! Pick one of these simple projects and get started today!
This post is sponsored by Lowe's. All thoughts and opinions are, as always, 100% my own.